Japan KW21
Marine Algae Culture Medium "KW21"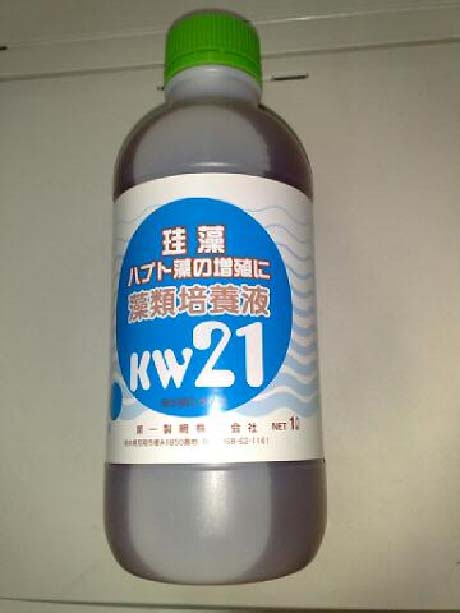 Marine Algae Culture Medium "KW21"
For the proliferation of Marine algae!
(日本藻肥精, 一劑型產品)
—-Support the growth of a wide variety of algae.
Strong Points
KW21 is presented as one liquid containing various nutrients in an easily absorbable state. Thus, no troublesome procedure for preparing culture medium is needed.
Because of containing amino acid complex and vitamin mixture, KW21 enables stable proliferation.
KW21 makes it possible to sustain the peak concentration for a long time after proliferation of Bacillariophyceae (Diatoms), which ensures safety and easy utilization.
Applicable to
・ Bacillariophyceae:floating marine diatoms (Chaetoceros), adhesive marine diatoms (Navicula, Nitzschia etc.)
・ Hapyophyceae (Pavlova, Isochrysis), Prasinophyseae (Tetraselmis), Nannochloropsis.
・ Other large-sized algae such as Ulva.
How to use
1. Add KW21 in an amount specified in the following table per liter of marine water.
Note:The optimum concentration somewhat varies depending on culture conditions.
2. In case of culturing marine diatoms, use sodium Meta-Silicate together with KW21.

KW 21 Ingredients :
49g/l of nitrogen (as N), 4g/l of phosphoric acid(as P), boron, manganese, iron, zinc, cobalt, EDTA, amino acid complex, vitamin mixture(B1, B12, Biotin etc.)
Package
6 x polyethylene bottles (1L) per cardboard box.