AmmoniumTest Kit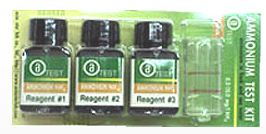 Ammonium in fresh and sea water (0.2-10.0 mg. /l NH4)
USAGE:
1. Rinse the measuring vessel with the test sample and fill to 5 ml mark.
2. Add 10 drops of Reagent # 1and mix.
3. Add 1 level measuring spoon of Reagent # 2, and shake to dissolve, leave to stand for 5 min.
4. Add 6 drops of Reagent #3 and mix.
5. After 5 min. place the measuring vessel on the color card and read off Ammonium value. Store at +15°c to 25°c.