Chlorine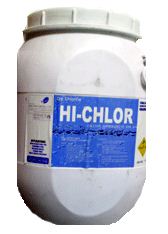 HI-CHLOR
(Calcium Hydrochloride 65% min.)
90% min. Calcium Hydrochloride is also available.
READ BEFORE USING
Precautionary statements.
Chemical hazaros
- Hi Chlor is a strong Oxidizer.
- A void contact with skin, eyes, and Clotings.
- A void breating dust and vapour.
- Do not mix or allow contact with any foreingn materials such as soap materials, detergent products, paint, acids,sovents, vinegar, garbage, oils, petrol and other combustible materials.
- Use clean and dry container for dispensing.
- Do not add water to this product, add this product with water.
It has absolutely effect on post larval, plankton, all other microorganisms and dissolved Oxygen
INDICATION:
It is an germicide in the form of Calcium hypochlorite 65% which effectively disinfects Gram+ and Gram– bacteria, Vibrio spp. Bacteria, white-sport virus disease, Protozoa, Fungus, and luminous bacteria
USAGE:
Pond preparation : Apply 35 kg./ 1300 m2 (35 ppm.)
APPLICATIONS
Main disinfectant for Swimming Pool, Drinking Water, Shrimp Pond waste water Treatment.
Transportation: Do not throw container, It may cause leakage of contents or invasion of moisture.
Storage :
- Keep out of reach of children.
- Keep in original container in a cool, dry and well ventilated area-indoor.
- Keep container closed when not in use.
- Keep a way From heat sources, sparks and open flames.